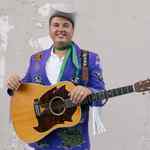 Kody Norris
"Fearless Leader" - Guitar & Vocals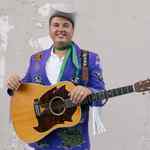 Kody Norris
"Fearless Leader" - Guitar & Vocals
Growing up in the mountains of East Tennessee, and sharing a birthday with the great Earl Scruggs meant that destiny was written in the stars for Kody Norris, who founded his band, The Kody Norris Show, more than a decade ago.

Kody learned early the strong musical legacy of Johnson County, Tennessee, home to musicians including Clint Howard, Fred Price and Clarence "Tom" Ashley; the first group to tour with Doc Watson during the folk revival of the 1960s. The first recording of "House of the Rising Sun" was created in Johnson County by Tom Ashley in the 1930s. Tom Dooley (of the oft-recorded folk murder ballad) was captured there by another resident of the county, Col. James Grayson.

Although he did not grow up in a musical family, Kody recalls a couple of great-uncles who owned instruments, including his Uncle Jack, who would tolerate the young Kody dragging a banjo around the house and "making a racket." Kody has fond memories of riding around in Uncle Jack's Chevy El Camino with the music of the Stanley Brothers playing on the 8-track.

"I purchased that car from him in my teens," Kody says, "and my Dad and I restored it." Norris still owns Uncle Jack's El Camino.

Kody's musical journey began in earnest when he was around ten years of age when his parents purchased a used mandolin from friends at church. The young Kody was immediately bitten by the bluegrass bug. Today, the multi-instrumentalist is adept at guitar, mandolin, banjo, and bass.

"My dad would take me to numerous festivals where I saw all my bluegrass heroes," Kody says. He treasures the memories of experiencing Bill Monroe, Ralph Stanley, Jimmy Martin, Jim and Jesse, and others whose music continues to inspire his own original songs. Blending echoes of the past from numerous genres with newer styles and arrangements has become the hallmark of Kody's music.

Like most writers, Kody draws from the well of his own life experiences. He weaves his love for words and literature with clever wit and genuine emotion. While still in high school, he endured the passing of his beloved grandfather, and divorce of his parents. Keeping everything inside, he turned to writing to work through the pain and upheaval.

From the age of 15, Kody pursued his interest in the music business; working as a sideman and studio musician, teaching music lessons, and serving as festival or event emcee. Being able to play multiple instruments, coupled with his abilities as a parts singer opened the door to many opportunities including playing with artists including Ralph Stanley, Ralph Stanley II, Melvin Goins, and The Cumberland Highlanders.

During his teens and between other gigs, Kody was part of a duo project with his friend, Tom Isaacs. The duo performed old time songs and mountain music in the tradition of the Stanley Brothers. Eventually, the act grew into a full band. As Kody Norris, Tom Isaacs and The Watauga Mountain Boys, the group toured in a big, blue Cadillac Deville with a bass tied on the top and luggage packed inside with 5 musicians. They hit the road, taking as many gigs as they could find, staying in cheap motels and learning the business as many young acts do.

A chance meeting with Campbell Mercer, executive producer of the Cumberland Highlander's Show on the RFDTV network, led to several appearances on that show, and ultimately a 9-year stint playing guitar on the show.

Eventually, Tom Isaacs chose a different path and the band became Kody Norris and the Watauga Mountain Boys. Unable to recreate the chemistry he'd had with his good friend, Kody began to consider a new direction, including performing his own original music with a bit more story-telling and humor, and The Kody Norris Show was born.